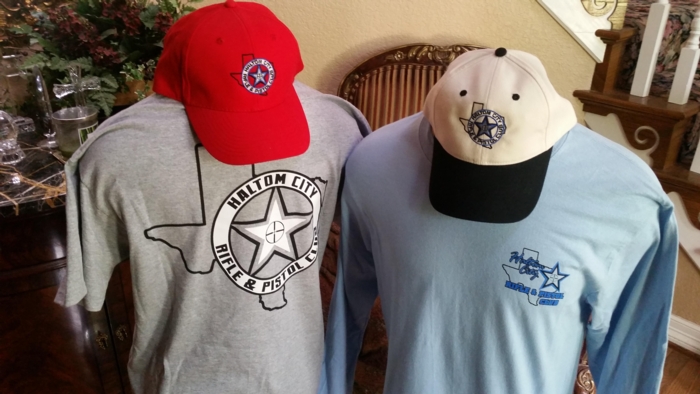 TEES, HATS AND OTHER ITEMS
This online store for HALTOM CITY GUN CLUB offers Long and Short Sleeve Tee Shirts, Hats and just about any shirt with the Gun Club Logo Embroidered.
STOCK SILK SCREENED TEE SHIRTS and EMBROIDERED HATS:
Limited to stock Items only.
Contact Tom Mann, with Size Color Preference, Long or Short Sleeve Shipping Information
Shipping is a flat $9.95 anywhere in the USA, (No Charge for Pick up items)
Payment is by cash or check and must be received before any item ships
8.25% Sales Tax will be added to all purchased items
HCRPC Logo Ball Caps
$10.00 ea. All Assorted Solid Colored Hats
$10.00 ea. SPECIAL CAMO HAT
$12.00 ea. All Other Assorted CAMO Hats
$20.00 ea. Lighted Hats
HCRPC Logo SHORT SLEEVE TEE SHIRTS
$11.00 ea. Small - X-Large
$12.00 ea. 2X LARGE
$13.00 ea. 3X LARGE
HCRPC Logo LONG SLEEVE TEE SHIRTS
$14.00 ea. Small - X-Large
$15.00 ea. 2X LARGE
HCRPC Logo ORANGE RANGE OFFICER TEE SHIRTS
$15.00 ea. Small- X-Large
$16.00 ea. 2X LARGE
SPECIALTY POLOS, BUTTON DOWN Shirts, JACKETS, SWEATERS, ETC:
l. Visit Tom Mann's website to locate your apparel needed. www.companycasuals.com/thomasmann
This isTom Mann's promotional company website for your use to shop and order any item you would like for personal use or gifts. We constantly update this site with all types of gift and promotional companies that you may order and receive HCRP Club discounts. Each company's discounts vary but 30% is a good average discount
The first page shows items from SANMAR. (distributor) On the left side of the page click your desired items and make notes of the order number and retail pricing as needed.
Located in Bold Blue lettering toward the bottom of the left side listings you may click (Additional Company products offered). This takes you to a second page where there are categories of product offered for your convenience. There is Top Brand Clothing Company catalogs listed and any item from any company may be ordered for your personal shopping.
Club Members are not limited to certain items. You have access to any item that is from any of the catalogs posted.
HUNTERS SHOULD VISIT the following sites: CVA, DRAKE, RIVERSWEST, GAMEGUAR
Contact Tom Mann with Model Numbers, Colors, and Sizes Etc. Any of the items on our website maybe ordered for your personal use. Also, any apparel may be ordered with or without embroidery.
The clothing pricing will be 20% discount for Club Members (w/o embroidery) off of the retail prices posted.
If the logo is desired, $7.50 Embroidery charge and we will need location for the logo.
8.25% Sales Tax will be added to all purchased items