ANNOUNCEMENTS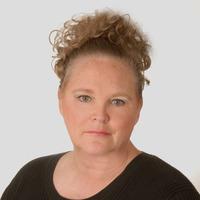 We are saddened by the news of Kathleen Hezel's passing on September 22, 2020. Please keep Till and family in your thoughts and prayers.
https://legcy.co/3clBTqi
October Member's Meeting Cancelled
Due to current Tarrant County and Texas Covid restrictions, the October Member's Meeting is canceled.
We will try again in November!
Stay safe and healthy!
HCRPC Board of Directors
Haltom City Rifle and Pistol Club
Range address
2100 Minnis Dr, Haltom City, TX 76117
Range Phone: (817) 834-8498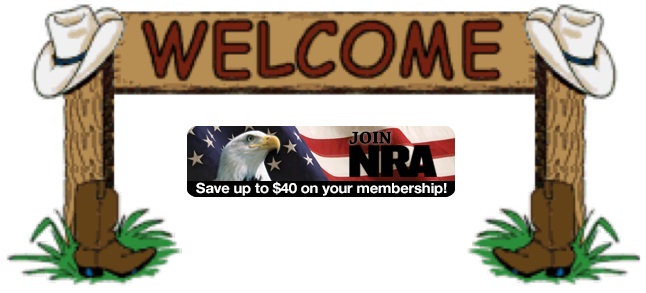 September Precision Match Results (Bullseye Match)

August 2020 Falling Plates
August heat was down to 96 at match time and the humidity was high at 76%. An ice chest with plenty of water kept competitors hydrated and made the humidity more tolerable. The match had one first time shooter and six veteran shooters. Both Falling Plate lanes were used to shorten the match time. Come out and shoot with us at our next match on September 26th.
PS - Pat Clark there were more than two or three shooters.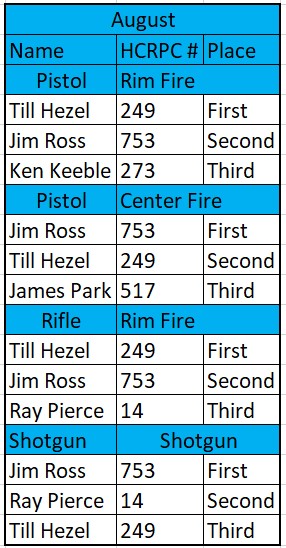 ---
September 2020 Silhouette
HCRPC September 2020 Silhouette Report
One more year in the books. Now for hunting season and the State matches, Texas in Austin supersedes our match in October, Louisiana in Lafayette in December. We will start back in January, pending Board approval, the same format as this abbreviated year.
Had five spectators to see what was going on, or forgot to check the range schedule; better than watching golf, but better to bring gun and play.
Smallbore Cowboy Lever Action Silhouette Rifle
Thirteen shooters came to enjoy a bright fall day, got 60 shoots in for the first time in a couple of hot months.
High Overall Larry Weir 54 x 60, and without a spotter to boot
1st Master Mark Sternglanz 53
2nd Master Charlie McClure 50 highest personal score this year
1st AAA Roy Shepard 49
2nd AAA Thomas Johnson 41
Pistol Cartridge Lever Action Silhouette Rifle
Ten stuck around for the second match, still a nice day to shoot
High Overall Jerry Boydstun 53
1st Master Mark Sternglanz 52 by a point, again
1st AAA Roy Shepard 47 (12 turkeys)
2nd AAA Thomas Johnson 47 (11 turkeys)